Crypto Reacts to Ukraine Crisis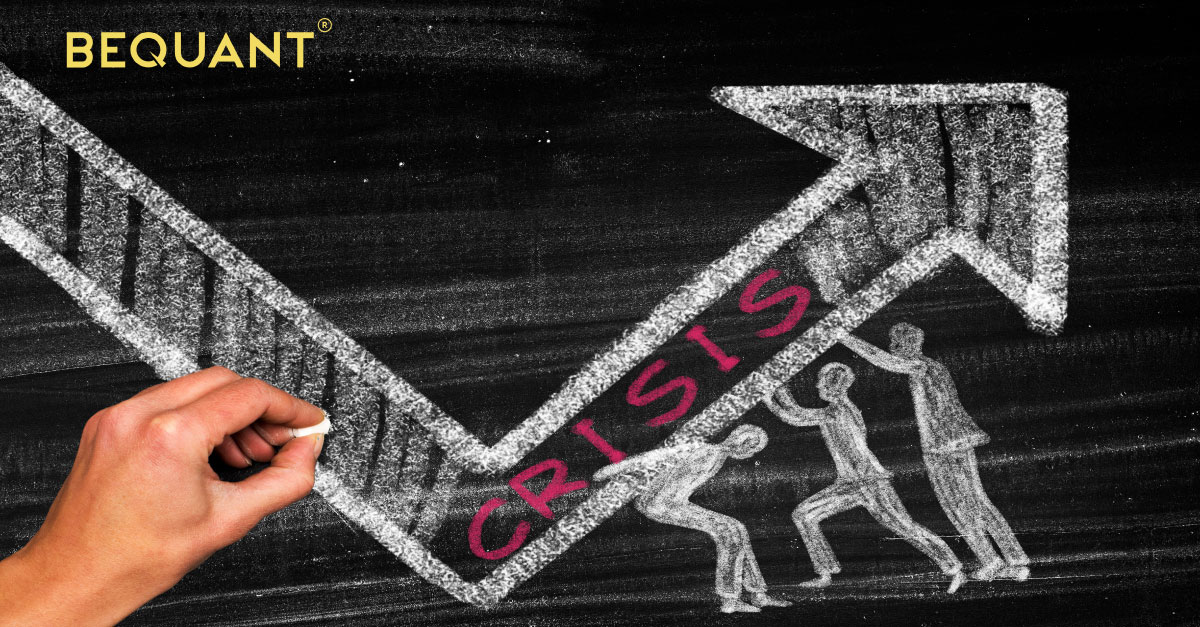 Summary
The Russia/Ukraine crisis has dominated both global front pages and markets this week, with both traditional and crypto markets falling drastically. On Friday, those betting against bitcoin suffered heavy losses as markets recovered. The US dollar was up 10% on the Ruble while Brent crude surpassed $100 for the first time since 2014. The rise in commodity prices will add to inflation and crimp economic growth. It puts central bankers in even more of a bind.
India gave clarity to crypto advertisers while the UK's Financial Conduct Authority sent warnings to Bitpanda. The Block and Coinbase released Q4 results with mixed reactions and the UAE has made tracks to attract crypto platforms. BEQUANT wins big this week, picking up two separate awards.
We may get a partial walk-back of rate hikes. but the problems that were there before intensify with an added dollop of geopolitical risk. This means we should take the short term rebound with a pinch of salt.
Macro
Markets tumble
On Thursday, the market capitalization of all cryptocurrencies slid to $1.5 trillion, losing 9% in 24 hours as the Russia/Ukraine crisis intensified. The entire global economy was hit by the situation, with the Stoxx 600 Europe index falling more than 3%, micro Nasdaq 100 futures down by 2.3% and Russia's MOEX equity index dropping by 28%, a record for the exchange.
Many consider Bitcoin as an inflation hedge and for its price to be resilient against crises.
FTX's CEO Sam Bankman-Fried weighed in and said its decline was to be expected. The crisis sparked a sell-off in both traditional and crypto markets. This is partly due to the increased institutional interest in the crypto space, as well as the growing correlation between BTC and the Nasdaq and S&P 500, which recently reached a two-year high. However, crypto markets recovered throughout the day on Thursday and into Friday.
Crypto recovers, short positions suffer
Traders betting against a rise in cryptocurrencies suffered losses of up to $143 million as of Friday morning as global markets recovered from Thursday's declines. Bitcoin, ether and other major cryptocurrencies added close to 10% in 24 hours from Thursday morning, almost regaining Wednesday night's levels. Bitcoin traded near $38,400 at the time of publication, up from Thursday's low of $34,725. According to data from Coinglass, some 73% of traders were 'short' the market – or betting against a rise,
Ukraine suspends digital transfers
Ukraine's Central Bank has banned the issuance of electronic money and the replenishment of electronic wallets following the implementation of martial law in the country. At the time of writing, it is not clear whether this includes crypto or refers to FIAT held in accounts such as PayPal or within a digital bank account.
Russian Ruble plunges
The US dollar was up more than 10% against the ruble as markets opened on Thursday, sending the Russian currency to its lowest level against the dollar. It was trading at 89.89 to the USD at 8.40 am in Moscow, with the dollar up 10.45% against the previous day.
US Stock futures were in the red and oil prices jumped sharply. The international benchmark, Brent crude, surpassed $100 for the first time since 2014.
Block reports better-than-expected results
Block reported on Thursday that it's Q4 total revenue was $4.08 billion, up 29% year-over-year, narrowly topping the $4.04 billion analyst consensus. Excluding bitcoin, revenue totaled $2.12 billion, up 51% on the prior year.
It's Cash App service generated $1.96 billion of bitcoin transactions and $46 million of gross profit in Q4, up 12% and 14% year over year, respectively. For perspective, the total company gross profit for Q4 was $1.18 billion.
BEQUANT wins big
This week, BEQUANT has walked away with not one but two prestigious awards. On Tuesday night in London, BEQUANT won the best solution for trading digital assets at the TradingTech Insight Awards 2022. On Thursday, the team were in New York and successfully saw off the likes of Coinbase and Nexo to win best prime broker at the Hedgeweek US Digital Assets Awards 2022. Click here to find out why - LINK
Regulation
India release crypto advertising guidelines
The Advertising Stands Council of India (ASCI) has released a set of 12 guidelines for the promotion and advertisement of digital assets, including cryptocurrencies. The new crypto advertising framework is set to come into effect starting 1st April, the same date when the 30% tax on crypto is set to come into effect.
The guidelines state that all crypto advertisements after-22 April must add a disclaimer to explain crypto and NFT products are unregulated and "can be highly risky." The disclaimer must be shown in all dominant languages. The ads must not compare a crypto asset to a regulated asset. They must refrain from using "currency," "securities," "custodian" and "depositories" while referring to their products or services and if talking about profitability, the information must be clear, accurate, sufficient and up-to-date.
The primary guideline requires all ads for VDA (virtual digital asset) products and VDA exchanges or featuring VDAs to carry the following disclaimer: "Crypto products and [non-fungible tokens] are unregulated and can be highly risky. There may be no regulatory recourse for any loss from such transactions."
FCA warn off Thiel takeover
The Financial Conduct Authority (FCA), the UK's financial watchdog has raised concerns about Bitpanda's purchase of Trustology Ltd. The Peter Thiel-backed trading platform has been warned that it has the powers to strip the business of its crypto registration if it is found that the company or its ownership were unsuitable. The FCA granted Bipanda's license under the anti-money laundering rules in October 2021. This acquisition was the first purchase of an FCA registered crypto asset firm.
UAE looks to issue licenses for virtual asset service providers
The United Arab Emirates is set to issue licenses for virtual asset service providers by the end of Q1 to attract the largest crypto companies. According to a government official, the Securities and Commodities Authority is in the final stages of amending legislation to allow VASPs to be set up.
The national licensing system is set to help the UAE to compete with other financial centers such as Singapore and Hong Kong. Some of the Emirates' free zones have already issued permits for VASPs. According to a government report, Dubai Multi Commodities Center has licensed 22, Abu Dhabi Global Market has licensed 6 and Dubai Silicon Oasis Authority has at least 1.
Canadian regulators flag crypto CEOs tweets
The Ontario Securities Commission has flagged tweets from the chief executives of cryptocurrency exchanges Kraken and Coinbase Global Inc. to the Royal Canadian Mounted Police.
Twitter posts from Kraken CEO Jesse Powell and Coinbase CEO Brian Armstrong that criticized Canada's emergency orders aimed at ending trucker protests recommended the use of non-custodial crypto wallets have been sent to the Police force.
The Canadian government used emergency powers last week to put an end to anti-vaccine mandate protests by truckers who blocked downtown Ottawa for nearly three weeks, with blockades also spreading to key U.S. border crossings. Justin Trudeau's emergency orders require financial institutions in Canada to examine customer records and take action against people involved with the protest, leading banks to freeze some accounts. India releases official crypto ad guidelines
Crypto
Coinbase report Q4 revenues
Coinbase saw revenues of $2.5bn in Q2 2020, higher than the expected $2bn. According to FactSet, adjusted earnings per share were $3.32, versus estimates of $1.94, according to FactSet. The company posted $2.3 billion in transaction revenue in the fourth quarter versus $1.1 billion in the third quarter.
Q4 trading volume of $547 billion was up from $327 billion in the third quarter. It also reported 11.4 million in monthly transacting users (MTU) in Q4 versus 7.4 million MTUs in Q3. However, Coinbase said it has seen a drop in crypto asset volatility and prices versus all-time high levels in the fourth quarter, owing in part to macroeconomic factors and geographical instability in parts of the world. As a result, it expects retail MTUs along with total trading volume to be lower in the first quarter versus Q4.
Colorado to accept crypto as payment for taxes
Colorado is set to become the first state to accept crypto as payment for taxes, Governor Jared Polis announced on Wednesday. The state, which was also the earliest to use blockchain technology for government infrastructure, will take the digital coin payments and deposit the equivalent value in dollars into the state's treasury.
"In Colorado, we've been laying the groundwork to be a center of crypto and blockchain innovation for a number of years," Polis said in a statement. "We see it as a critical part of Colorado's overall innovation ecosystem."
The announcement comes as legislators in other states, including Arizona and California, are proposing laws which, if ratified, would deem cryptocurrency an accepted form of payment statewide, not just for tax purposes.
Ethereum co-Founder welcomes crypto winter
Vitalik Buterin, co-founder of the Ethereum blockchain, says the crypto space may benefit from the current drop in coin prices that's cast a chill on investors and is being referred to as another crypto winter.
"The people who are deep into crypto, and especially building things, a lot of them welcome a bear market," Buterin said during an interview with Bloomberg. "They welcome the bear market because when there are these long periods of prices moving up by huge amounts like it does -- it does obviously make a lot of people happy -- but it does also tend to invite a lot of very short-term speculative attention."
F1: To the zoom!
Last week, the Formula 1 team Red Bull signed a $150 million sponsorship deal with Singapore-based crypto exchange Bybit.The multi-year deal is "the single largest per-annum cryptocurrency venture yet seen in international sport," the company said in a press release on Wednesday. Bybit will also take on the role of issuing fan tokens for the Formula 1 team, helping it grow its digital assets, while supporting Bybit's crypto education initiative.
Also Aston Martin Aramco Cognizant Formula One (AMF1) has joined forces with Crypto.com for an NFT drop. Each NFT represents a digital render of individual components from this year's competition car.
This is the second collaboration between AMF1 and Crypto.com. Last year, the companies launched a collection of five different NFTs to mark the Grand Prix 2021 race. The drop amassed over $2M in sales at the time.

XDC Networks signs deal with D.C United

D.C. United of the Major League Soccer (MLS) has signed a three-year jersey sponsorship arrangement with blockchain technology developer XDC Network. XDC has also been termed the official blockchain and NFT marketplace partner as part of the arrangement. With the help of XDC, D.C. United fans will be rewarded for their commitment with fan tokens, which can be exchanged for unique experiences and privileges.
Ethereum Virtual Machine compatible Zero-Knowledge rollup release announced

zkSync announced on Wednesday the test network release of an Ethereum Virtual Machine compatible Zero-Knowledge rollup (zkEVM) years ahead of schedule.
The EVM is the environment in which all Ethereum wallets and contracts live and is responsible for defining the rules of the chain from block to block. The new test network is the first implementation of a ZK rollup capable of running the full Ethereum environment and will provide great insight into how capable zero-knowledge technology is at scaling blockchains.
Deutsche Bank U.S consumer survey shows deep bullishness for crypto

Deutsche's 'Future of Cryptocurrencies" report sheds a light on a potentially bullish US consumer market. The survey suggests that neither traders nor investors are likely to part with their crypto holdings in the event of a bear market.
Marion Laboure, a director of macro strategy at Deutsche Bank, told Cointelegraph:"It is interesting to note the deep bullishness for cryptocurrencies. Even in an extremely bearish crypto market in which values were to drop 80%, less than half of investors say they would reduce their investments or exit the market."
DB surveyed 3,250 United States consumers in early December 2021, 680 of whom use cryptocurrency. The report splits the findings into three groups: traders, investors and transactors. The lion's share were investors: 80% of those surveyed admitted having invested in crypto in the past six months.
EU plan AML watchdog to oversee crypto firms

Plans by The European Commission state an AML watchdog to oversee European crypto firms by 2024 in coordination with other authorities. The financial watchdog will oversee illicit transactions at crypto firms.
A group of European Union member nations led by Germany and including The Netherlands, Spain, Austria, Italy and Luxembourg plan to include crypto firms under the purview of the Anti-Money Laundering-focused group — purportedly the European Commission's Anti-Money Laundering Authority, which was first proposed in July 2021. The group will reportedly begin operating in 2024 and be "fully functional" by 2026.
DeFi/NFTs/The Metaverse
BEQUANT lists Blockchain Cuties
BEQUANT has listed its first GameFi token, Blockchain Cuties Universe Governance token ($BCUG), on its Exchange. $BCUG is the native digital cryptographically-secured utility token of Blockchain Cuties Universe - one of the first and most established blockchain games in the industry. Through the BEQUANT Pro prime brokerage platform, the Blockchain Cuties token will also be available to be traded by institutional clients as well as retail investors.

The Blockchain Cuties Universe is one of the leading players in the DeFi gaming space. It has just launched Season 7 of its ever-evolving Cutieland. DAO holders of the token have a say in the future development of the Universe through a truly democratic governance model.
FTX moves into gaming
FTX is launching its own gaming unit, aimed at encouraging more game publishers to embrace cryptocurrencies, blockchain networks and non-fungible tokens. FTX Gaming will debut with a "crypto-as-a-service" platform where gaming companies can launch tokens and offer support for NFTs.
The move follows November's announcement that it would invest $100 million with two partners to spur integration of the Solana blockchain into video games.
Until next week!
Disclaimer: The views expressed in this newsletter are my own and not intended as financial advice or a recommendation, but only for informational purposes. You should carry out your own independent research or consult a financial adviser if you are unsure. Please also be advised that I hold investments in some of the assets mentioned in this report, including digital assets, equities and ETFs.
Martha Reyes
Feb 25, 2022