Year End Melt-up?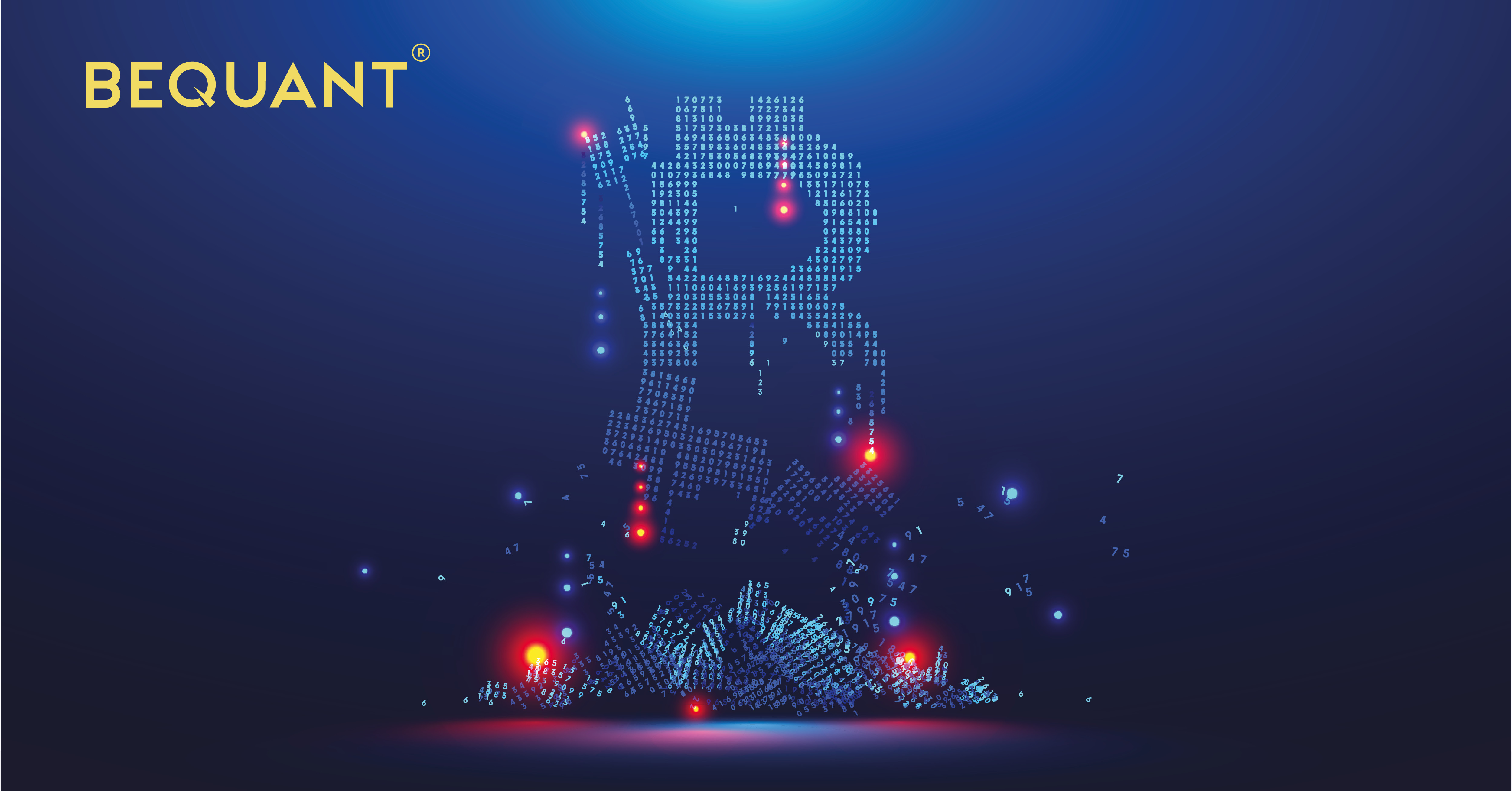 Year End Melt-up?
Summary
It was relatively quiet ahead of Thanksgiving next week, with the dollar continuing to show strength as fund managers worry about interest rate hikes, now perhaps overdone. Smaller cap, higher beta stocks had a pullback as did digital assets in a week characterised by options expirations. The higher implied volatility premium and the pullback in BTC keep it on our bucket list and the options market shows high demand for call options at $100k for December 31st. Earnings highlights included +60% earnings growth out of Nvidia. Crypto was a sea of red, with only Avalanche and meta plays posting good price action.The main driver was the slightly more risk averse market environment rather than anything specific to the ecosystem. In terms of risk assets, the Turkish lira was one of the worst, as the prime minister insisted on rate cuts in the face of 20% inflation. Bitcoin fixes this.
MACRO
WILL A STRONG DOLLAR CONTINUE?
It was an options expiration week which can sometimes lead to weakness and we witnessed consolidation in the Russell and the Dow, with a pullback in small caps. The US dollar index (DXY, measures the USD against currencies including EUR, JPY, GBP, CAD, CHF and SEK.) was broaching 96 on Friday, near recent high, and is up for four weeks in a row due to the market now pricing in 100% probability of two rate hikes in 2022. The commodities index (CRB) that tends to move inversely to the dollar, has been slightly down in the period (-0.79%). Jobless claims fell to $269k, getting closer to the pre-pandemic average of $218k.
December does tend to be a strong month and rate hikes are more than priced in so it is hard to bearish given strong earnings, multiple compression, as the market isn't keeping up with results and more fiscal stimulus with the just approved nearly $2 trillion social spending package. It has passed with a narrow margin in the House and needs to squeeze through the Senate.
Dead cat bounce for the greenback? Interest rate hike expectations seem fully priced in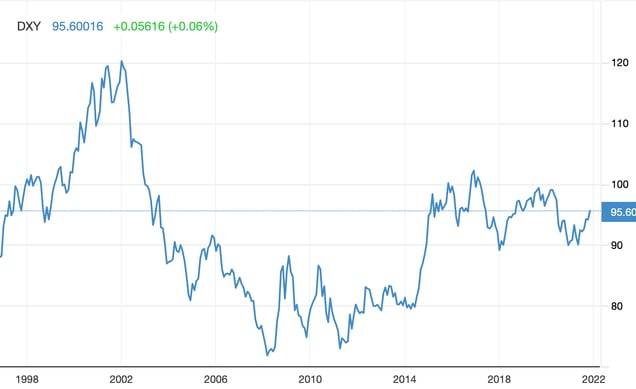 Source: Trading Economics
UK CPI surprised to the upside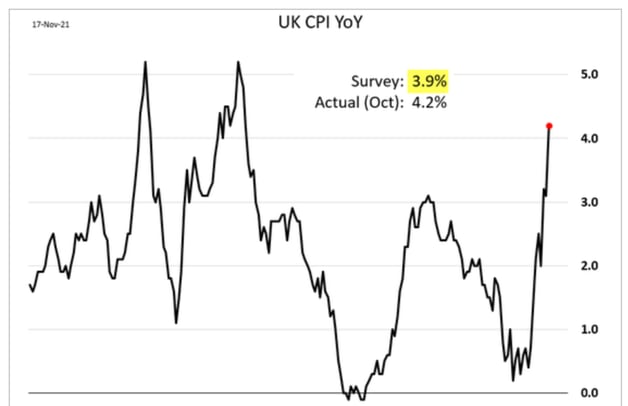 Source: WSJ
Euro inflation gap to US has led to a weaker euro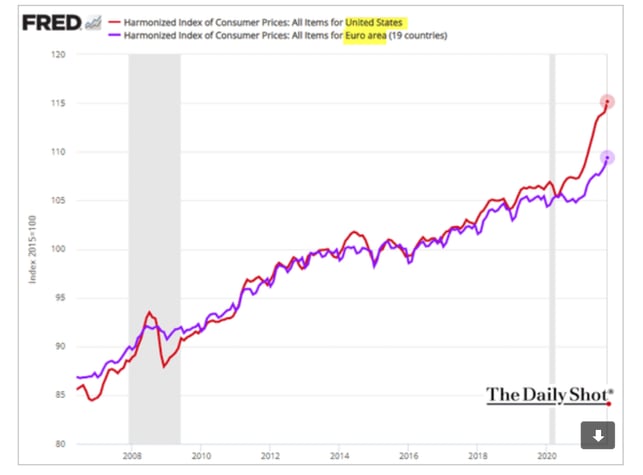 Source: WSJ
BTC solves this: the Turkish Lira skids to new lows, after the Central Bank cuts rates and the dollar strengthens. Inflation is running at 20%: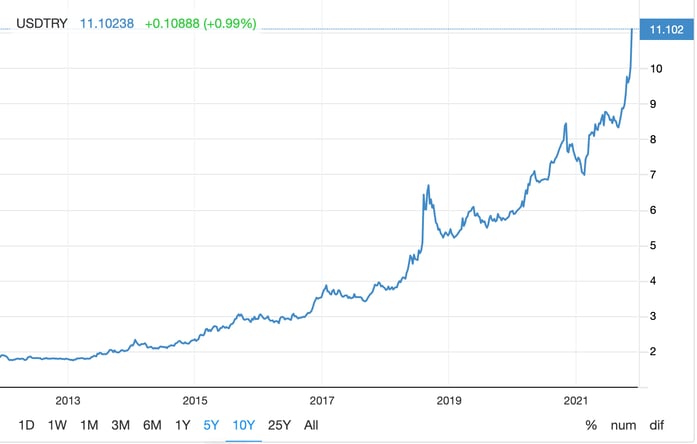 Source: TradingEconomics
Fund Managers see rate hikes as a bigger risk to the markets than last month, as per the BofA global survey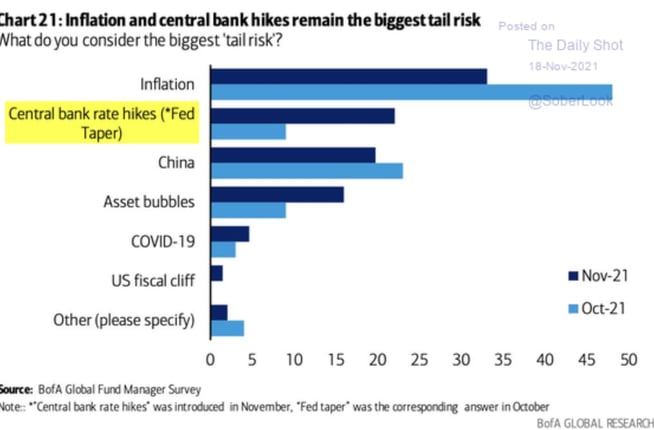 A separate Goldman Sachs survey of 800 clients showed that even though most investors think inflation will be transitory (two thirds say below 3% by 2022), there's a sizable group who thinks it could stick around. Those that think it sticks around, expect the first US rate hike in Q222.
Bears dominate, with more clients saying they are likely to reduce risk at the margin, GS poll

It's the demand shock, stupid (Bridgewater), sales are above pre-pandemic levels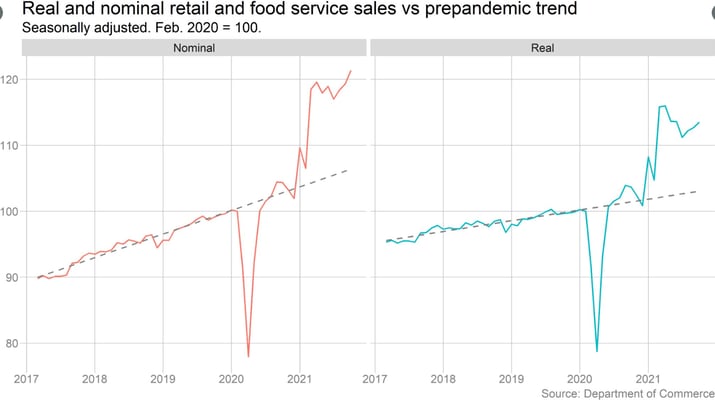 PRICE DISCOVERY
Nearly two out of three of the biggest American public companies have reported higher profit margins so far this year than they did in 2019, pre-Covid, according to FactSet, with 100 of them posting margins 50% above 2019.
Highlights included chip maker Nvidia, which has risen 300% for the year and another 8% plus post results, with quarterly revenues up 50% and adjusted earnings up 60%, yoy. Nvidia is currently trading at 113x P/E and a market cap of $730 bn. Q4 revenue guidance was also 10% better than what analysts are forecasting from the higher end of the range ($7.55bn)
SOUR SINGLES DAY
In Asia, Alibaba slumped 10% on lower earnings guidance (+20%) as the company sees a slowing sales outlook, in stark contrast to the U.S. Its share price has halved in a year, while rival JD surprised positively, perhaps taking some share from $BABA.
Tail risks, Covid cases trending up in Europe and worldwide, the US may follow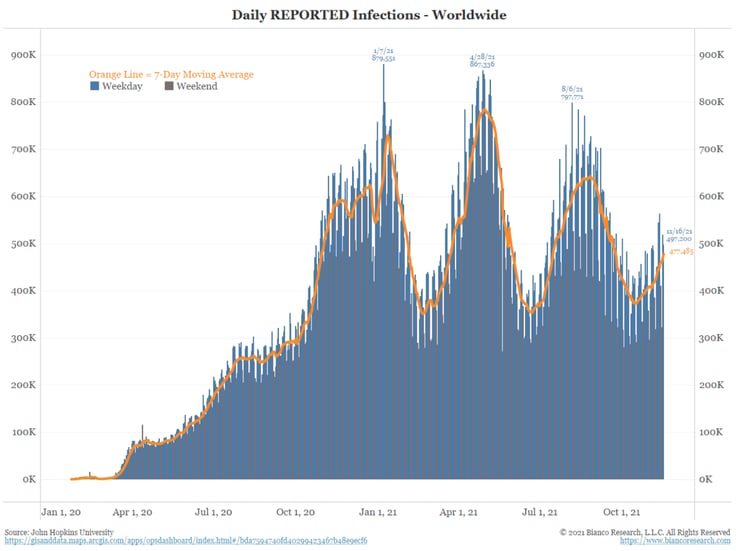 Source: Jim Bianco research
CRYPTO
BUBBLES?
Bank of America's Global Fund Manager Survey show money managers are largely sceptical of bitcoin, expecting flattish to weaker prices, with 59% saying it's a bubble

Degens don't agree with cautious institutions, BTC options call options for year end dominating at $100k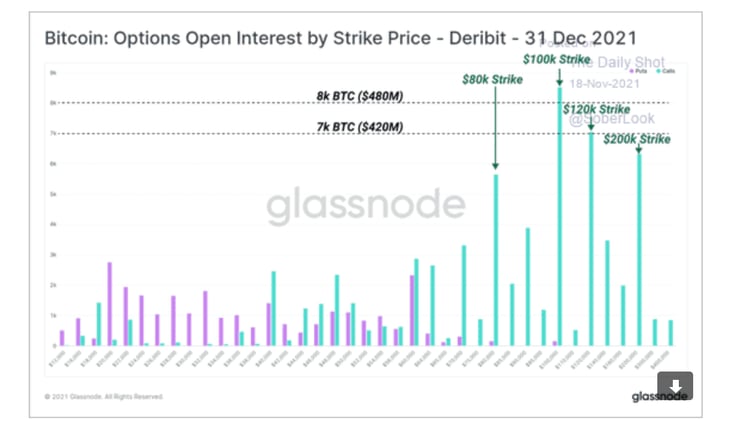 On chain: Coin Days Destroyed ticking up but at early stages of redistribution, as longer term holders start taking profits, with 80% in the black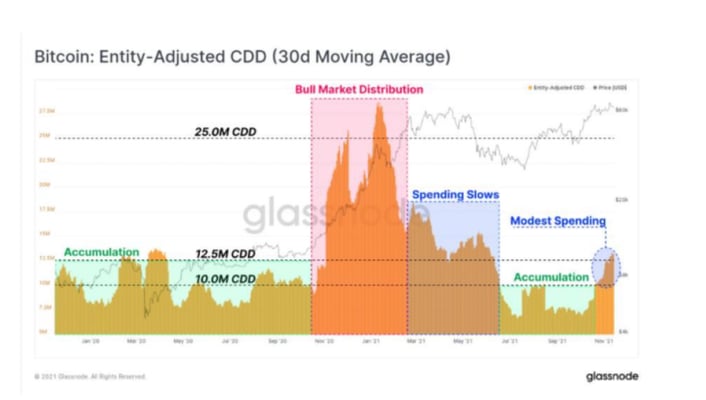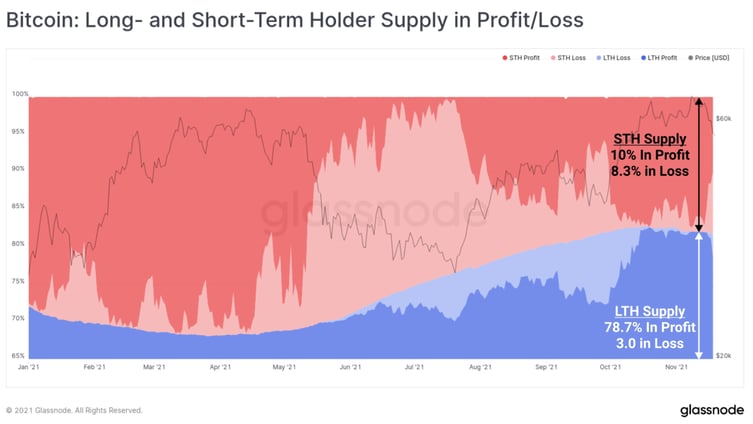 REGULATION
BIPARTISAN SUPPORT FOR BTC BILL
In a positive and unexpected development, a bipartisan bill was introduced on Thursday in the House to amend the infrastructure bill's crypto tax provision. Crucially it seeks to replace the vague definition of "broker" with one that is limited to exchanges, rather than miners or wallet providers, for example. It would be positive if successful.
CANADA CONTINUES TO PAVE THE WAY
Fidelity has been approved as Canada's firstBitcoin trading and custody platform for institutional investors. They are also filing for an ETF and mutual fund for the retail market.
DeFi/NFTS
IN THE RED
It was a week in the red, with only Avalanche (+26.3%), Crypto,com (+44%), Decentraland (+22%), The Sandbox (+64%), Wax (+74%) and Gala (+180%) of assets over $1bn in market cap, posting solid returns. The common thread for outperformance was NFTs and the metaverse, with the exception of Avalanche. The catalyst for the avalanche blockchain is the partnership with "Big Four" accounting firm Deloitte, which will build more efficient disaster relief platforms
FAT DEFI FEES FALL
Uniswap's market share among Ethereum spot DEXes reached a high of 72% after they launched a lower fee category of 0.01% this month, which according to Delphi, makes their stablecoin quotes very competitive. Their usual fees range from 5 bps to 100 bps on some pairs, which is high versus centralised exchanges.
Daily active wallets on Solana trend upwards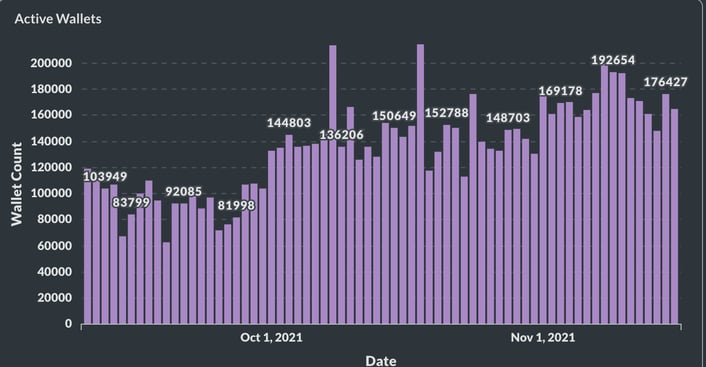 Source: Chaincrunch
WE THE PEOPLE
In this case, the people are the 17 thousand individuals who collectively raised almost $50 mn USD to bid for one of the original copies of the U.S. Constitution at Sotheby's. Alas, they were outbid. Legally, if they had won, the copy would have belonged to the two individuals who initiated the project but they promised, via a DAO, an aspiring decentralised autonomous organisation, to allow PEOPLE token holders to collectively have a say on decisions such as where the document was stored.
BANKING ON BANKSY
Sotheby's held its long awaited Banksy auction where bidders were allowed to use ETH to bid in real time. The sale price for two pieces was over 3k ETH.
IN NIKE'S FOOTSTEPS
WIll Adidas be cool in the metaverse? Adidas launches NFTs for the metaverse.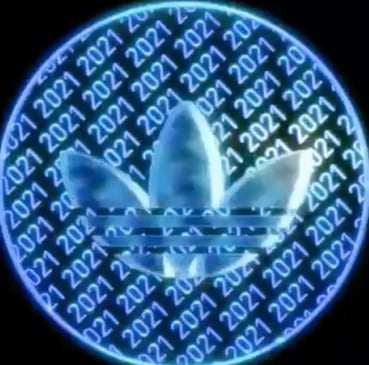 INVESTMENT MONITOR: $15 bn in funding for digital assets and counting 9M21, up almost 400% from FY202.
OpenSea, the predominant NFT platform, received investment offers that would value the platform at $10bn, after an explosive run in its trading volume from $100k in December 2020 to $200mn plus in August of this year, They'd only just raised $100mn from VC firm a16z in July, at a $1.5bn valuation and did a series A in March.
Gemini, the crypto exchange, raised $400mn to bring its valuation to $7.1bn. Morgan Creek Digital led Gemini's first round of outside funding.
ConsenSys, an Ethereum project development and investment firm, closed a $200 mn raise from HSBC, Coinbase, ParaFi, Marshall Wace and Thirdpoint, at a $3.2bn valuation. Part of this will be to hire and expand and also grow NFT adoption.
Anchorage, the institutional crypto platform, was valued at $3bln after a series D led by giant KKR, which boasts $459bn in AUM. Anchorage is the first crypto company to receive a federal banking charter in the US and did a series C earlier this year raising $80mn.
Blank check: Bitdeerm, the crypto mining platform, is going public in a $4bln SPAC.
The Oasis Foundation is launching a $160mn fund to develop dApps in DeFi, NFTs, DAOs, gaming and the metaverse.
Crypto.com has upped the stakes, having now invested $1bn in marketing, with its latest $750mn 20 year deal with the L.A. sports arena formerly known as Staples Center. What will the price of BTC be in 20 years?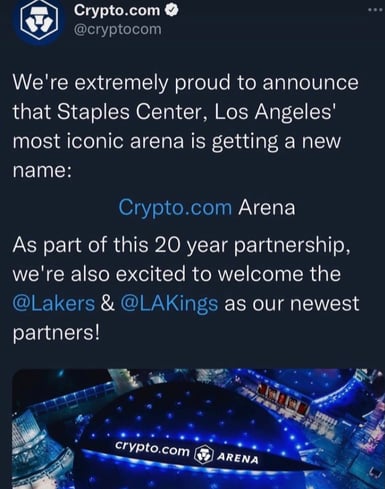 Until next week! We welcome comments and suggestions. Martha @reyeshmartha
Disclaimer: The views expressed in this newsletter are my own and not intended as financial advice or a recommendation, but only for informational purposes. You should carry out your own independent research or consult a financial adviser if you are unsure. Please also be advised that I hold investments in some of the assets mentioned in this report, including digital assets, equities and ETFs.